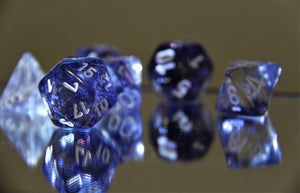 Three Reasons You'll Like Shopping at Player's Emporium
Collections Curated by Players Like You
Why this shop instead of another?  Because you'll find a curated collection of items hand-picked by players just like you.  With decades of tabletop gaming experience, we've learned what's out there and what's going to be fun for you to use on game night.  No need to spend your time filtering though overly long lists of items and trying to figure out which ones are good and which ones are not.  You can find what you like right here.
You Can Get an Entire Collection at Once
No need to shop though different retailers or limited-offering specialty shops.  You can get all the cool stuff you want right here in one transaction.  You know you'd have more fun waiting on a big box of goodies than you would have with the slog of searching through a hundred websites looking for that one "just right" item when it's right here.
You Can Welcome the Next Player
When you get a new player in your game night group, they get into the hobby fast.  You know there's always a holiday or birthday coming up, so why not make it easy?  You don't have to take hours browsing stores to find something for your friends, because you can always find something fun for them here!  You know they'll be delighted to bring those shiny new dice to the next game night!
---